It Will Pay to Get Into Commercial Solar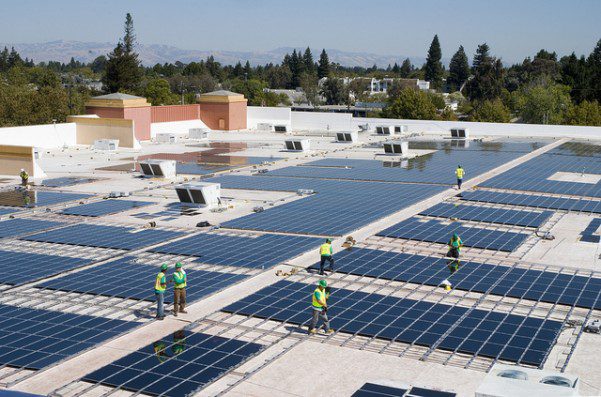 Over the last few years, the boom in solar rooftop panels has gotten plenty of attention. But manufacturing, installing, and selling those solar systems takes a lot of work. Not every homeowner can afford panels right now, and not every person with a house has the right incentives to make it cost effective. That's why more and more, it makes sense to focus on commercial solar versus residential, as large open spaces will cost less for solar installation than rooftops. And The Motley Fool agrees, which is why it recently focused on the untapped opportunity of commercial solar.
The Growing Business of Solar
As of last year, GTM Research (cited in the article) put the average cost of a residential solar system at $3.48 per watt, while a commercial system only cost $2.25 per watt. Yet commercial solar goes beyond just panels, as they're something that relates to consumers and the grid on a larger scale. Solar needs to compete by adapting and forming partnerships with energy storage providers. For example, SolarCity has been working with Tesla to launch energy storage products so homeowners and business owners with solar panels can keep the energy they create.
It's clear companies across the board are getting on board with solar. Tech giants Apple and Google have already set out to make solar a priority, and other companies want to do the same — if they could get more data. But other major corporations like Walmart and Kohl's are putting solar panels on their rooftops. And don't forget the hundreds of small businesses following suit. Even a decade ago, this may have seemed like a crazy idea, but nowadays, it's the smart thing to do.
How Solar Companies Can Sell Solar
To stay competitive, solar companies will need to add capabilities beyond solar panels and net metering. They also need to collect and analyze as much information as they can to learn when and how to use energy storage so rate structures can be maximized for profit, while offering dynamic pricing to consumers. And businesses will get to maximize savings by generating power on-site, and keeping it.
For solar companies like SolarCity, SunPower, SunEdison, and First Solar, the opportunity in commercial solar is huge. It's only going to grow bigger as solar continues to expand, and solar companies see how the demand is growing. But products must improve and companies must adapt to fit the needs of the consumer, both residential and businesses alike. So as long as solar companies stick to their word and provide the resources necessary for companies to jump on board, there's never been a better time to be shareholder — or business owner looking to save long-term costs through renewable energy sources.
How do you think solar companies can better sell businesses on solar energy? Tell us your thoughts in the comments!
Image Credit: Walmart via Flickr under a Creative Commons license