Best Outdoor Solar Lights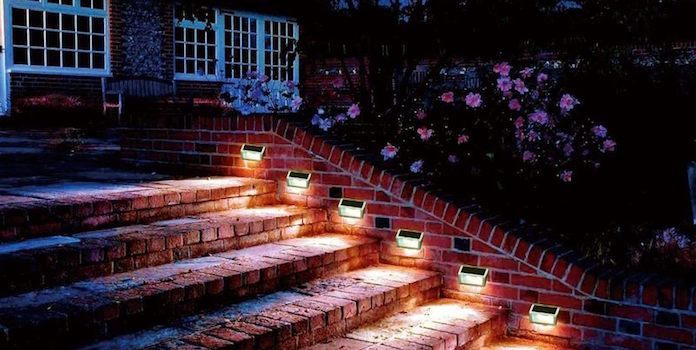 Not quite ready to go full scale solar? Take baby steps with the best outdoor solar lights.
Outdoor solar lights do everything from accenting your beautiful landscape work to improving the safety and security of your home to simply lighting the path to your front door. Chances are, if it's something outside, there's a solar light to suit your needs! Here we check out the best outdoor solar lights for 2018 and look at what you need to know before making any decisions.
The Best Outdoor Solar Lights for 2018
There are hundreds of different solar lights out there to light up your yard and home exterior. You can basically find any light you need and it can be a daunting task to narrow down your options. To help you in your search, we've chosen the best outdoor solar lights in 6 different categories:
Below, you'll find info on each of these lights, as well as a runner up for each category. Feel free to just click on the type you're interested in above and it'll shoot you down to the right section!
Best Solar Path Light
GardenBliss Solar Path Lights Set
Runner-Up: SolPex High Lumen Path Light Set


Solar path lights are specifically designed to light up paths you might walk on at night. Simple in concept, these lights need to provide enough light that you can walk safely down your sidewalk, while still being attractive enough that you don't mind a dozen or so in your front yard. (These lights are usually sold in packs of 6 or more.)
As these lights are designed for accenting a path, most see very low lumens rating, typically around 1 to 10. Range is usually just a couple feet. Most if not all include a stake mount to easily install each light in the ground.
Our top pick for solar path lights is the 10-piece set from GardenBliss. These lights see great customer reviews, look great, and offer wonderful bang for the buck.
With a frosted plastic lens, textured black finish, and domed top, the lights look quite classy – perfect for the walkway to your front door or lighting the path though your relaxing backyard. Each light produces 10 lumens with about 2 feet of range.
These lights enjoy great reviews from over 1,500 Amazon users. Buyers report that they're durable for the price and look great. However, at least one notes that the light quality is more bluish-white than white – a common issues among cheaper LEDs. Still, at their low price, you're getting a great deal on some well-functioning path lights.
If you're looking to go a bit more high-class, check out the SolPex High Lumen set. These cost over twice as much per-light as the GardenBliss lights above, but you're getting much higher quality product.
First off, the lens is actually glass instead of plastic, supposedly allowing more light to be reflected for a brighter appearance. These high-end path lights also use much more efficient polycrystalline silicon solar cells to charge the batteries, instead of the cheaper and less-efficient amorphous silicon. Polycrystalline cells are more efficient and can therefore charge the batteries much more quickly than other low-cost path lights. Reviewers note that they can even be fully charged in just a couple hours of sunlight – a nice feature on rainy days.
While they're rated at 10 lumens, just like the GardenBliss lights above, almost all users report that the SolPex lights offer great light quality and a very pleasing glow, as well as a great durability and quality build. If you don't mind spending some extra cash, these path lights are about as good as you can get.
Best Solar Stair Light
iThird Solar Step Lights
Runner-Up: F-Teck Outdoor Solar Step Light


Similar to solar path lights, stair lights are designed to help you safely navigate steps in the dark and accentuate your beautiful deck or patio. These lights are mounted vertically on the back of steps, illuminating each step below. This set-up ensures that the solar panels can catch enough sunlight but don't trip you up mid-descent.
Lights are typically placed on each step both for illumination and to keep the installation looking balanced, so figuring out how many lights you need is a very simple task.
Our top pick for solar stair lights are the iThird Solar Step Lights, a company focused exclusively on sleek outdoor solar/LED lighting. Their stair lights enjoy fantastic customer reviews, with buyers praising both the brightness of the lights as well as their long work time, with many reviewers noting they'll still be shining even in the wee hours of the morning.
The housing is a very simple, modern stainless steel that is screwed into the step. The monocrystalline solar panel quickly charges the batteries in 4-6 hours, with the battery lasting 6-10 hours. iThird doesn't note the lumen rating of these lights, but user reviews confirm they are more than sufficient for lighting stairs.
Like the path lights above, these lights have a light sensor to automatically turn on from dusk to dawn, so they're certainly an install-it-and-forget-it product.
Thanks to their great value (comes in packs of 4), numerous excellent customer reviews, and sturdy build, we crown iThird the best outdoor solar stair light.
If you're looking to save some cash, take a look at F-Teck's Outdoor Solar Step Light. These lights are very similar to iThird's products, but with a slightly lower review score (though not 'low' by any means).
Be warned that the lower score is due to some users reporting batteries dying early. Still, most users report great experiences and you can buy them in sets of 2, 4, 6, or 8, with discounts the more you buy! In fact, if you buy a set of 8, you'll spend about 40% less than if you bought the same number of iThird lights. So if you're looking for a cheaper light with decent reviews, check out F-Teck's products.
Best Solar Security Light
Litom Wide Angle Solar Security Light
Runner-Up: DrawGreen 1400 Lumen Solar Security Light


Unlike the lights above that are 50% practical/50% aesthetics, security lights are all about creating a safe space around your home and scaring away any prowlers and ne'er do wells. As such, these lights are typically bright, with good range and a handful of settings/sensors so you can tailor them to your needs. Equipped with motion sensors, security lights are also convenient if you need to answer the door at night or have pets that need to be let out.
Our top pick for best solar security light must certainly go to Litom's Wide Angle Solar Security Light, thanks to its incredible number of good reviews (over 8,000!), unique design, and decent price.
This light uses 24 large LED bulbs and a unique 3-sided design that allows bright light to flow 270 degrees around the fixture. The light produces 526 lumens and can illuminate a 400 square foot area (about 14 feet X 14 feet). Users can choose among 3 different available modes: (1) medium-bright from dusk-to-dawn with no motion detecting, (2) dim light default with super-bright upon motion detection, and (3) no light default with super-bright upon motion detection.
In modes 2 and 3, when motion is detected, the light will turn on for 20 seconds then return to the default setting. Litom doesn't publish the range of the motion sensor, but users report anywhere between 8 and 26 feet, so be aware of this issue when purchasing.
Installation is easy with a single screw through the top of the fixture. Unfortunately, the lithium-ion battery is non-replaceable, so when it kicks the bucket you'll have to replace the entire fixture. At this price point though and with these batteries' typical long lifespan, you should be good to go for years.
If you're looking for a more powerful solar outdoor security light, check out the ultra-powerful DrawGreen 1400 Lumen Solar Security Light. This thing is over 2x as costly as the Litom Wide Angle light, but also almost 3x as powerful (lumen-wise at least). The motion sensor can detect movement up to 26 feet away, and throw light as far away as 55 feet – quite an incredible range!
As far as usability goes, both the light and the solar panel are attached via a swivel, so you can angle both the light and solar panel independently for the best placement. The light turns on automatically at night in dim-mode, reserving full brightness for when motion is detected.
Users report an easy installation, bright light, and a durable product – what more could you want?
Best Solar Landscape Light
URPOWER Solar Lights
Runner-Up: Mini Solar-Powered Spotlight


Are you more interested in the aesthetic options for solar lights? Solar landscape lights are designed to highlight features of your home or yard once the sun goes down. Whether it's a fountain, home feature, statue, or greenery, solar landscape lights have got you covered.
These lights can be mounted in various ways – via stake in the ground like solar path lights or on a wall like security lights – and be positioned to emit light in whatever direction is needed. Most solar landscape lights attach the panel to the light via a swivel arm, so you can position the panel separately from the direction of the light.
Our top choice for the best solar landscape light comes from URPOWER, for their cost-effective and well-received URPOWER 2-pack solar landscape lights. These lights each contain 4 LED bulbs, for a total of 200 lumens, powered by a single 18650 lithium-ion battery. Like we mentioned above, both the solar panel and light are attached via a swivel joint (90 degrees of movement for the light, 180 degrees for the solar panel), so you can direct the panel and light independently from the mount as well as each other.
Installation is also quite flexible, as you can either attach the stake and stick it in the ground, or remove the stake and screw the fixture into the wall for vertical placement.
Lights turn on automatically from dusk-to-dawn, and users are able to choose between a high-light and low-light mode. URPOWER estimates the battery to last between 6 and 9 hours on a full charge.
URPOWER's solar lights enjoy over 7,000 customer reviews, with the vast majority reporting that the lights are exceptionally bright, continue to work well months after purchase, and that the company provides wonderful customer support.
If you're wanting to illuminate an area that sees little sunlight, the lights above still won't do, as you'll have no sunlight to recharge the batteries. If you find yourself in this situation, check out the Mini 50X Solar-Powered Spotlights from Solar Light Mart. This kit actually includes 2 LED spotlights connected to a single separate solar panel. Each cable is 16 feet long, allowing you to install your lights exactly where you'd like and place the solar panel in full sun elsewhere. It's the best of both worlds (Just don't forget where the cord is and run over it with the weed wacker!)
Users can choose between 3 brightness settings, with each light produces between 60 and 100 lumens depending on the setting. The lights last between 5 and 15 hours. This lights are best placed in the yard, not vertically on the wall, as the accompanying burly metal stakes are some of the strongest-looking ones we've seen so far! The solar panel also comes with a yard stake for easy installation. Thanks to the metal housing and strong stakes these lights have some major fans, who love the durability and adjust-ability. Users also love the color quality of the lights as well, which are a warm white – not blue like the cheaper LEDs.
With their beefier components, these lights are naturally more expensive than the URPOWER fixtures above, but if you need to install your lights separately from your solar panel, they are a great option.
Best Solar String Light
Brightech Pro Solar String Lights
Runner-Up: Lemontec 200 LED Solar String Lighting


Are you looking for outdoor lights designed for hosting friends out on the porch in the evening? Then solar string lights (also known as bistro-style lights or party lights) are what you're looking for! These lights produce a relaxing, trendy light perfect to sip wine under. These lights are half functionality, half style. And since the whole point of their existence is ambient decoration, style matters!
Our top pick for solar string lights is the Brightech Pro Solar String Lights. While they're a bit more expensive than others out there, these are restaurant-quality lights that are ultra-durable. Hang them up and leave them outside forever! Each kit includes a 27 foot length of cord, with 12 bulbs spaced every 20 inches. These bulbs are large and sufficiently bright to gently light up a patio or deck. The color quality is a relaxing warm white – not an ultra-bright whitish-blue like a spotlight.
For ease of use, the solar panel can either be staked in the ground or clamped to a fence (both the stake and clamp are included). The batteries take about 6 hours to fully charge and last between 5 and 6 hours. Users report excellent light quality and an extremely durable product. Honestly, there's nothing bad to report here – these things are awesome!
If you're looking for 'Christmas tree style' string lights, ie very small bulbs, take a look at Lemontech's 200 LED Solar String Lights. Like it says in the name, the 72 foot cable includes 200 string lights, and the 2-pack set costs considerably less than the Brightech lights above.
These lights are bright bluish-white, but customers report that the ambient lighting is quite beautiful. Charging takes between 6 and 8 hours, with work time around 8 to 10 hours. The solar panel comes with a stake to install in the yard.
Overall, Lemontech's Christmas LED 'Christmas' lights are a great deal for quite a bit of LEDs! If you want other Christmas light options check out our Best Solar Christmas Lights post.
Best Solar Garden Light
Moonrays Solar-Powered Turtles on a Log
If you're looking to get spunky and funky, but still stay powered by the sun, you're certainly not out of options! Solar garden lights come in all manner of whimsical designs to showcase your plant life at night and act as an accessory during the day. Gnomes, flowers, butterflies, globes – most anything you can think of probably has a solar light version!
These usually don't give off any really useful light. Instead, they're a playful addition purely for fun. They also tend to come in multiple colors beyond just white light, offering a pretty way to decorate the lawn at night.
It's all about style and what you personally like, so get creative! Here, we've picked out one favorite that we like just to get your mind working!
You can't go wrong by combining clean solar energy with a few cute turtles chilling out on a log making Moonrays Solar Powered Turtles on a Log Light our top pick for best solar garden light. The lights are embedded in the turtles amber shells, producing a nice warm glow at night to hide in your flower beds. They're made of poly-resin for durability and come with a rechargeable AA battery. Perfect for your grandma or turtle-loving neighbor.
Of course, if moonlit turtles aren't your thing, you can use these as starting off points. If you've got an interest, chances are someone's made a solar light for it!
View More of the Best Solar Garden Light Designs at Amazon
Tips for Getting the Most Out of Your Outdoor Solar Lights
Solar lights are pretty simple pieces of equipment. Generally speaking, you can just put them in your yard and forget about them. Still, here's a few tips to help you get the most out of your lights for as long as possible.
Place solar panel in a well-lit area – Solar panels need light to function. As such, your solar lights really won't work if you install them in a shaded area. It's the one drawback of solar lights. If you need to light an area that sees little sunlight, you'll likely want to limit your search to lights that include solar panels on a swivel hinge or separate solar panels attached via a wire.
If they start to get weak, chances are it's the battery – No battery lasts forever, so if you notice your lights simply aren't as bright as they once were, or aren't lasting as long, your battery is probably dying. If they're replaceable, just pull open the back and put a new one in. If they aren't, you'll have to just toss the entire fixture and get a new one. But hopefully it will be years before this happens!
Remember where you put them – This really only goes for the lights installed with stakes in the yard, but it is very easy to forget where they are when you're doing yard work. Between feet, the lawn mower, and the weed eater, the author started with 8 path lights, and is now down to just one.
How Do Solar Lights Work?
Solar lights are actually the most simple form of solar power around, but they work just like any off-grid solar system.
First, a small solar panel -typically attached to the top of the light – collects sunlight and turns it into electricity. The electricity then flows to a battery (usually a AA or equivalent) where it's stored for use later. When the light is turned on – typically automatically as the sun goes down – the electricity flows from the battery to the LED lights. When the battery is out of juice or the sun comes up, the lights turn off. Once the sun's out, the solar panels start charging the batteries again to repeat the process.
Once installed, solar lights are very hands-off. You don't need to maintain them. You don't need to charge them or turn them on. They're about the easiest things to take care of!
Typically, solar lights use light-emitting diodes (LEDs), as opposed to incandescent or compact fluorescent lightbulbs (CFLs). LEDs are more energy efficient, waste less energy in the form of heat, and last a lot longer than other bulbs.
Solar lights can be used for anything an 'ordinary' outdoor light can do. Solar path lights provide a nice glow so you don't lose your step. Spotlights help accentuate a particularly beautiful tree or plant. Solar security lights provide safety. And so on. You can find pretty much any type of light in a solar-powered version!
Advantages of Solar Outdoor Lights
Solar outdoor lights enjoy a handful of benefits over 'normal' lights.
Easy to Install – Unlike lights tied into your home's electricity, solar lights are very easy to install. You don't need to run wiring from your house. You don't need to worry about water-tight connections. You don't even have to plan ahead. With solar lights, all you do is open the box and stick the lights in the ground or on the wall. Since each light is self-contained with light, battery, and panel, you don't have any wires to run or electrical connections to make. Quite literally anyone could install solar lights!
Free Power – Unlike conventional lights that run off electricity from the utility, your outdoor solar lights are run off the sun! With this free energy source, you'll never have to pay for the juice your lights use. You could have 1 light or 1,000 in your yard – it doesn't matter, it's all free electricity!
Cheap to Buy – Solar lights are about the same price as a standard outdoor light. Of course, both solar and conventional lights have their designer models, but overall, you aren't going to empty your bank account on solar lights.
Cheap to purchase, easy to install, and free electricity. Talk about a win-win-win!
Things to Watch Out For
You'll inevitably have questions about the lights you're looking at. How bright are they? How much space do they illuminate? How long will the batteries last? Thankfully, there's no guess work involved to find this info out. Manufacturers oftentimes include all this info right up front, but you'll need to understand some lingo to really know what you're buying.
Lumens
All lights have a lumen rating, which is a measure of the brightness of a light. Lumens range from just 1 lumen to 1400 or more. High-quality lights typically proudly advertise their rated lumens, but cheaper lights oftentimes don't. Higher lumens usually means a higher price, but low lumens aren't always bad. Accent lights or relaxing string lights typically have very low lumens to create a nice, pleasant atmosphere. In fact, some path lights are a single lumen, but the more expensive options jump up to 10 or so.
If you're looking at spotlights and security lights on the other hand, you'll want a higher lumen rating in order for the light to cover more area. The cheaper security lights are rated around 200 lumens, but can jump up to a blinding 1400 for the more expensive options.
Helpful tip: On Amazon, some manufacturers don't readily provide the lumen rating. In this case, scroll down to the 'questions' section and type in 'lumen'. Oftentimes, other Amazonites have asked this exact question to the community, with helpful results!
Range
Another measurement of how much the light will illuminate is the range, or distance from the lamp the light will illuminate. This can be as small as a couple feet for accent lights to 50 feet or more for spotlights.
Be sure to get a light with a large enough range to illuminate the desired area. A 15 foot range might seem like enough when you're sitting in front of your computer, but when you go out to your driveway, you realize just how short that really is. If you want to be absolutely sure you're buying the right light, measure the distance you need to illuminate before buying.
Helpful tip: The average human stride is just under 2.5 feet, so go outside and take a quick walk to measure the distance of the area. It only takes a second, but can save you a mild headache later on.
If you're buying path lights to light your sidewalk, take a look at the range to figure out exactly how many you need. In fact, on Amazon product pages, previous buyers will often recommend how frequently to place these specific path lights – every 3 feet for example – for maximum usefulness and aesthetics.
Batteries
Batteries will typically be the limiting factor in your solar lights' lifespan – they'll die out before anything else goes kaput. This isn't a huge deal if you're buying a couple dollar lights that you can replace in a year or two. But if you're buying dozens to light your path, or more expensive security lights, it pays to take a minute to read about the different batteries manufacturers use in their lights.
Outdoor solar lights typically have two options: a non-replaceable, built-in battery or replaceable batteries. Cheaper models typically include non-replaceable batteries, but that's not a rule by any means.
Different lights also use different battery technologies. The most common technologies are rechargeable lithium-ion batteries (size 18650 – the 'standard' for rechargeable lithium) or conventional rechargeable AAs (either nickel-metal hydride [NiMH] or nickel-cadmium [NiCd], both very common).
All the battery technologies above will work great, but each does have their own benefits and drawbacks. Generally speaking, lithium charges faster and are smaller than the others, but it can be difficult to find the size you need, as lithium battery sizes aren't as standardized as the others (there's no standard AA size for lithium batteries yet!)
On the day-to-day level, lumens and range – more than battery type – will affect your experience, so focus in on these considerations instead of battery type.
Lighting Mode and Sensor
The most basic accent and path lights include a simple light sensor to automatically turn on from dusk to dawn. Higher-end security lights, on the other hand, will have a few different settings to tweak to your exact needs – high and low-light options, motion sensor settings, etc.
Overall, available settings typically match needs. You don't really need a lot of settings for a cheap accent light, but security lights need to be tweaked to your needs so you feel safe. All manufacturers note what sensors and capabilities their lights have, so it's easy to find what you need.
Go light it up!
Hopefully, you now have a better idea of what types of solar lights are out there and which one will suit your needs the best. And since you don't need to hire an electrician to run wiring or anything like that, the process should be fun, simple, affordable, and show immediate results.
Want to get a little more green in your life? Check out our solar energy FAQ. Once you see how great solar power is, let us help you find a solar installer! Any questions? Ask away in the comments!
Images courtesy of Amazon