The Best Solar Lights for Outdoor Use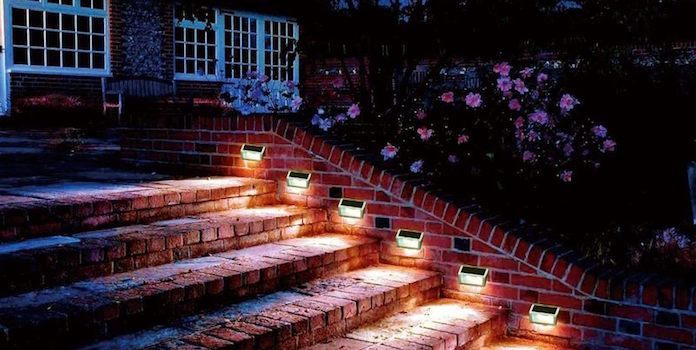 Not quite ready to go full scale solar? Take baby steps with outdoor solar lights.
Outdoor solar lights enhance landscaping and improve safety, and there are many options for your lighting needs: solar garden lights, solar landscape lights, solar path lights, and stair lights. Similar to rooftop solar panels, they convert solar rays into electricity and then store it in a small battery pack for use at night. If you are looking for a creative and cost-effective way to light your yard without much fuss, we'll help you choose the best solar lights for you.
Typically, solar lights use light-emitting diodes (LEDs), as opposed to incandescent or compact fluorescent lightbulbs (CFLs). LEDs are more energy efficient, waste less energy in the form of heat, and last a lot longer than other bulbs. They can also be programmed to switch colors and provide a better quality of light.
Once you've made the decision to buy solar lights, the real fun begins – which ones are the best to buy? This article outlines some of the best (and brightest!) outdoor solar lights for a variety of uses – the best solar landscape lights, best solar path lights, and the brightest solar path lights.
#1 – Solar path lights
These lights are specifically designed to light up paths you might walk on at night. It is important that solar path lights provide enough light that you can step safely, and are attractive enough that you want to install them the entire way down your front walk or driveway.
These lights are usually sold in packs due to their function. They typically have a stake mount that allows them to be placed into the ground, but some come with other mounting options (depending on the style needed).
The lights below were selected for a variety of reasons: the Westinghouse and GreenLighting products are featured due to strong purchaser feedback and production of high-quality light. The Westinghouse Kenbury light is also very durable and features a color-changing bulb. Ohuhu is also a brand with strong customer reviews due to the attractive design at a very reasonable cost, all with very simple installation.
#2 – Solar stair lights
Similar to solar path lights, stair lights are designed to help you safely navigate steps in the dark. Instead of being on poles dug into the dirt, these lights are placed in the corners of the step or mounted on the vertical, ensuring that their panels can catch the light but that they don't interfere with people walking up the steps. These are very important to have in a yard that may lack other exterior lighting sources, leaving steps in the dark.
Reviews praise the Signstek step lights' easy installation and good quality of light for the purpose. The HowFine lights have the best reviews and give off a bright, white light.
The Plow and Hearth and xtf lights are a good purchase for the price, with sleek designs and good functionality, as long as there is proper placement – a concern for many step lights. Examine your stairs prior to purchase and installation to ensure they are positioned well enough to receive ample sun. Ensure that the lip of your step doesn't block the panels and that the sun hits them with enough light to stay bright.
#3 – Solar wall and security lights
These lights are designed to provide wall-based light outdoors and are often equipped with motion sensors. Hooking up these solar lights can contribute to the security of your home by highlighting the sides of the home and discouraging potential intruders. They are also convenient if you need to answer the door at night or have pets that need to be let out. Amazon's all-around best-selling outdoor solar lights are perfect for walls and security.
The Sunforce light is a super-bright option for lighting your lawn when needed. The Litom is Amazon's number-one purchase, with 4.4 stars on over 2,000 reviews for quality, brightness, and good customer service. The Frostfire and Nekteks are other bestsellers due to their simple and flexible installation. Some customers are even able to hook them easily to gutters and minimize the number of attachment points required on the house.
#4 – Solar landscape and accent lights
Are you more interested in the aesthetic options for solar lights? Solar landscape lights, some brighter and called spotlights, and some softer and called accent lights, are designed to highlight the features of your home and yard that you want to stand out at night. Whether it is a fountain, a home feature, a statue, or greenery, solar landscape lights can achieve that goal.
Accent lights are typically the most efficient style of solar outdoor light, due to their low wattage (they don't need to give off as much light as for other purposes), and can run for longer on one day's sunlight. Spotlights, on the other hand, can be the least efficient and come with the heftiest price tag, depending on the strength and size needed.
These lights can be mounted in various ways and be positioned to emit light in whatever direction is needed. Some lights can also be configured with the panel away from the light itself, in case the positioning is too hidden or shaded for it to get any sun.
The Moonrays is a great-selling option for a whiter, bright spotlight feel at a small size and price. The Kenroy Home is known for its strong design and flexible methods of setup. The Magitec and the URPOWER are similarly styled products, with the Magitec making a great debut as a new product with a warm type of light and the URPOWER showing staying power as a bestseller with great bright spotlight capabilities (both have strong customer feedback on Amazon).
#5 – Solar string lights
Are you looking for outdoor lights designed for hosting friends out on the porch in the evening? There are also solar string lights (also known as bistro-style lights or party lights) that can provide this relaxing, trendy evening light. They also have solar-powered holiday lights! Their efficacy may depend on the type of weather you get in the winter (make sure snow doesn't cover the solar panel!), but are a great way to keep holiday lighting easy on the electric bill and look great at the same time.
These lights are half functionality, half style. Since the point isn't for them to illuminate so much as to provide an ambient decoration, style matters! All of the options below are 4 stars plus on Amazon, and offer both strong functionality as solar lights, and look great for entertaining or holiday decorating.

#6 – Solar garden lights
Some more decorative options are solar garden lights, which come in a variety of whimsical designs created to showcase your plant life at night and act as an accessory during the day. They can look like statues, flowers, butterflies, globes – most anything you can think of probably has a solar light version!
These usually do not give off as much light as all of the other options, because they aren't really designed to shine on or illuminate anything other than themselves. They also tend to come in multiple colors beyond just white light, offering a pretty way to decorate the lawn at night.
For these type of lights, check out the brand Moonrays, which creates everything from owls to Tiki warriors; CollectionsEtc., which features squirrels and willow trees; and Gardener's Supply, with birds and wire spheres. Reviews vary across all products – here, style really matters, so just take a look at what you like, and check the functionality as well!
Lighting words and technology
There will be a lot of potentially new words to look at when shopping for solar lights, so let's unpack a few of them. All of the lights you might shop for have lumen ratings – lumens measure the level of brightness of a light. So for accent lights or relaxing string lights, you may want a lower lumen rating, and for spotlights or wall lights you may want a higher lumen rating in order for the light to cover more area.
Another measurement of how much the light will illuminate is the range, which can be as focused as 2 feet and as lengthy as more than 30 feet. Be sure to get a light with a large enough range to illuminate the desired area. This is especially important when considering lights for security purposes.
As far as the batteries go, the lights may have two options: a non-replaceable, built-in battery (this style is usually cheaper) or replaceable rechargeable batteries. A light with a replaceable battery can last a very long time, while the other options tend to have a shorter use life and would need to be repurchased.
Many solar lights have multiple settings – some are automatic and will light up when they sense it is dark, some can be pre-programmed to turn off and on at certain times, others can work with a manual on-off switch, while some have a combination of the three!
Tips and tricks for the best solar lights
There are also a few tips for keeping your solar lights in optimal condition – giving off a bright light, staying well-maintained, and charging to the fullest extent. Remember to:
always take off protective films (which may be hard to see) before using your light;
charge the batteries for two to three days before you actually turn the lights on;
ensure maximum sun exposure; and
regularly clean both your lights and your solar panels to maximize light and efficiency.
Go light it up!
Hopefully, you now have a better idea of what types of solar lights you need and the options available. When you install them, make sure to place them in a part of your yard that receives full sunlight for all or most of the day in order for them to function optimally. Since you won't need to hire an electrician, the process should be fun, simple, affordable, and show immediate results.
You can check out more best-of solar outdoor lights from Amazon Best-Sellers and Overstock. Once you see how efficient and great solar power is, let us help you find a solar installer and even planning for your solar vehicle! Any questions? Share with us in the comments!
Images courtesy of Amazon