Which Residential Installers are the Best Solar Companies?
How do you find the best solar companies?
Each of the best solar companies has its own unique story and even among the five largest installation companies in the US, the number of systems installed in a year varies dramatically. To help you in this process, we've created this cheat sheet comparing the top 5 residential solar companies. We look at the companies' age and size, customer reviews, and offerings to homeowners.
What to Look for in a Solar Company
When deciding on what solar company to work with, you must look at a variety of factors – not just total installation cost– to ensure that your installation and the company continue to meet your needs throughout the life of your agreement.
First, we'll look at the size of each solar company, how old the company is, and what states they work in. This gives us an idea of the expertise and experience of each. The solar industry has exploded in the last 10 years, and many of the best solar companies are just 4 or 5 years old. But what they lack in age, they balance with a staggering number of solar installations each year.
Secondly, we'll look at customer reviews, giving us an idea of the customer experience, the quality and timeliness of installations, and the ongoing level of customer service after the installation is complete. By comparing the average online rating of different solar companies on sites like Google or Yelp, we can see what sort of experiences their customers have had and how they fare compared to other solar companies.
Lastly, we'll look at installation options each company provides, as homeowners need solar installations tailored to their energy use and financial situation. Most national solar companies offer fairly similar options, there are differences in their sales and installation processes as well as the equipment they offer. Being able to compare all these different facets will allow you to choose the company that best fits your needs.
Sunrun vs SolarCity vs Sungevity vs Vivint Solar vs SunPower
These solar companies are the top 5 residential installers in the US by size. All of them take customer from initial sales to installation, either through their own company or an affiliated subcontractor. For each company, we highlight potential pros and cons at the beginning of each section, then further discuss the businesses' history, reviews, and customer offerings.
Sungevity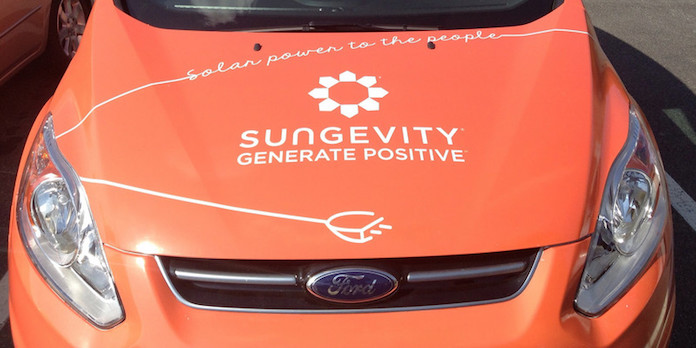 Just a year ago, Sungevity had legions of raving customers and was ranked the #1 solar company on BestCompany. Unfortunately, times have changed and the once-great solar installer has fallen, claiming bankruptcy in early 2017 and laying off hundreds of employees without back pay or severance. In April 2017, the Northern Pacific Group bought Sungevity for $50 million and rebranded it as Solar Spectrum.
Sungevity was such a big – and innovative – player in the residential solar market that we've still included them in this list. The fate of Solar Spectrum, neé Sungevity, is anyone's guess.
SunRun
Not many solar companies can attest to being born next to a pumpkin. SunRun can. In a county fair near Sacramento in 2007, founder Lynn Jurich got her first customer. What she was selling was revolutionary: a solar panel lease. SunRun and the solar industry have come a long way since then. SunRun installs a solar system every six minutes, and solar leasing was the industry standard (though now it's been taken over by cash purchases and loans).
SolarCity
There are people who push the envelope, then there are people who push the envelope. SolarCity is the latter. Under the stewardship of the Rive Brothers and Elon Musk, the California-based company has brought solar power to over 285,000 homes and is the biggest player in the industry.
Vivint Solar
Vivint, the home-security company that brought the door-bell peephole app to the nation, now brings you solar offerings. And solar offerings indeed – Vivint Solar is the second biggest residential solar installer on the market today.
SunPower
SunPower, "Creating the Mother of All Solar Panels since 1985." That's not actually their motto, but it should be. Because if one company knows how to make panels, it's SunPower.
Local vs National Solar Companies
Unlike national solar installers, in which there are a handful of well-known companies that dominate the market, there is an endless variety of small local installers in cities all over the United States. In the Denver, CO, area alone, there are 204 solar installers on Yelp! In San Francisco, there are 660! While these numbers do include national companies working in the area, it just goes to show how many installation companies are out there!
If you're trying to decide between working with one of the national installers above or a small, local company, here are a few key points to consider:
Cost
Because of their sheer size, national installers can operate more cheaply than a local company. They can order huge numbers of solar panels and equipment at discount prices, hire remotely, and create ultra-streamlined processes. However, most are also mired in debt and suffer from extremely high overhead costs.
Small, local companies, on the other hand, avoid most of that high overhead by having a small installation team, avoiding fancy offices, and running a small operation. In fact, the National Renewable Energy Lab found in 2017 that national installers typically charge 10% more (page 5) than small or mid-sized installers.
Customer service
You probably noticed that most of the big installers above enjoyed less than perfect online reviews, mostly due to poor communication and customer service.
Local companies, on the other hand, will be working with fewer customers at any one time and therefore can offer more hands-on customer service.
Post-installation support
Just like before and during the installation, local companies can easily provide attentive support throughout the life of the installation. If something goes wrong, it's easy to call up the company and have someone check out your system.
Post-installation support with national companies will be more standardized. If equipment malfunctions or energy production decreases, homeowners likely will call the company's customer service for help and, if necessary, to schedule a maintenance or repair visit.
With local companies, it's difficult to know which ones will give excellent support once your project is complete, so you'll still need to read reviews and talk to friends or family who've worked with the company.
Financing options
Solar companies that offer solar leases or PPAs need huge sums of money – in the millions of dollars – to begin offering these agreement types on a large scale. National solar companies partner with banks and investment companies to fund the thousands of leased solar installations across the US.
As you can imagine, it would be difficult for a small local company to raise the kind of capital to offer leases and PPAs, so most work with customers that finance their solar installations through cash or a 3rd party loan.
If you want a lease or PPA, the decision between a national or local solar company is probably already made for you, though it's certainly worthwhile to call a few local companies and ask what financing types they've worked with in the past.
So, who's the best: Sunrun vs SolarCity vs Sungevity vs Vivint Solar vs SunPower?
Picking the best solar company is kind of like picking the best ice cream. One flavor isn't better than the others. It depends on where you are, the mood you're in, and your appetite for risk.
If you want great customer service, go Sungevity (if they can get their act together post-bankruptcy). If you want a solid solar installer that hasn't recently gone bankrupt, go SunRun. If you want some sexy solar panels, go SolarCity or SunPower. Or, if you want your home security and solar system all from the same place, Vivint it is.
Whatever you do, speak to the companies, get quotes, and if you have the stomach for it, ruthlessly pit one company against another to get the best price you can.
On impartiality
For this article, we didn't use any customer reviews that were on individual companies websites. Instead, we used the reviews on BestCompany, a third-party review website. Why? First, they have by far the most reviews of any review site: bigger sample size equals a bigger picture.
Second, to enter the site, one needs to click a box to confirm they're not a robot. (Although admittedly, if you were an ill-meaning superbot, an "I am not a robot" box wouldn't be much of a hurdle to digital domination.)